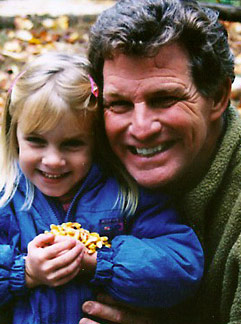 Like so many of us who are exploring the dream of owning a getaway vacation home in the mountains, I had my list of criteria. Mine started with a desire to find a peaceful retreat removed from the hustle and bustle of main stream living. I imagined a modest 10 -15 acre parcel high on top of a mountain, incredible long range views, heavily wooded but with some open green space and a stream running through the property. I also wanted the comfort of having good neighbors and some security when I was away from the property. Well, it didn't take long to realize that I was searching for the impossible, unless of course, I purchased a large tract of land and created it myself.
It only took one drive up Heaton Branch Road and a long hike to the top of Pond Mountain to see the view of the Iron Mountain Range and of Watauga Lake to make me fall in love. The rest is history, a dream was born. Heartwood became a passion and a work in progress. I hope that you take the time to visit this beautiful mountain.
I was born in West Palm Beach, Florida, grew up in South Jersey and moved back south to attend East Carolina University in Greenville, NC. Upon graduation, I moved to Wilmington, NC and began a career in construction. I have been married to my wonderful wife, Mary, for eight years. I have three beautiful children: Ryan (age 17), Anna (age 5), and Christopher (age 3). It would be my pleasure for you to meet us someday.
Being one of six children with two great parents, entrepreneurship was instilled upon us at an early age. Always wanting to do something a bit different, my first project was the purchase of a condemned 18 room Victorian house in the Historical District of Wilmington. This led to several larger rehabilitation projects with the most notable being the restoration/rehabilitation of the Wilkinson Building. This was the city's first mixed use building consisting of 4 residential condominium units and 4 mercantile units. This started my "pioneer" status and I moved to custom home building on an isiolated island known as Bald Head Island, North Carolina. I have been involved in general contracting in NC since 1974. My direction and focus changed 10 years ago when I became involved in replacement of polybutylene through the Consumer Plumbing Recovery Center (the agency responsible for the administration of the Cox vs. Shell class action lawsuit) and the purchase of Heartwood.