Entrance Gate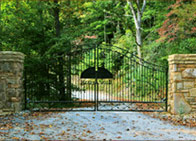 Heartwood maintains a private status with its state of the art electronically controlled security access system. The iron gates, which bear the Heartwood logo, are supported by 2 beautiful stone columns. The gates open automatically at 7:30 am and close at 4:00 pm on weekdays for construction traffic. They remain closed in the evenings and on the weekends. Entry to the subdivision is gained by entering a security code into the keypad located on a stone pedestal just outside the entrance.
Ponds/Waterfalls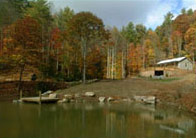 Heartwood has six ponds stocked with rainbow trout and are beautifully landscaped. The water level stays fairly constant and is fed by numerous underground springs, a recirculating pump, and rainwater runoff. Natural and man-made waterfalls keep the water moving constantly which aid in the clarity and freshness of the water. The ponds are easily accessible and homeowners and guests are welcome to enjoy an afternoon of fishing.
Trails/Ponds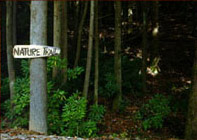 There are over 6 miles of roads in Heartwood that provide excellent hiking and biking. The northern boundary line of the property joins the Cherokee National Forest which offers unspoiled wilderness for the more experienced and adventurous hiker. The closest entry onto the Appalachian Trail is just 2 miles from Heartwood off Walnut Mountain Road.
Heartwood also has installed two nature trails of its own. One follows a stream through the easement that separates lots 56 and 57 through an amazing Hemlock and Rhododendron Forest. This stream connects the upper ponds of the common area to the lower Irick Pond at the Sportsman's Lodge. The other nature trail follows a natural branch through a beautiful stand of Poplar trees.
Common Area Bath & Cookout Facilities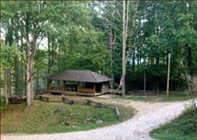 Convenient and centrally located in Heartwood is a meeting place, cookout, and recreation area for everyone's enjoyment. Many of our lot owners regularly visit Heartwood and enjoy camping at the common area. The facilities offer a covered shelter, picnic tables, and a bathroom with a hot shower for your comfort and rejuvenation. Your family is welcome to gather with others around the campfire and enjoy campfire stories while roasting marshmallows. Our common area also hosts our Annual Fall Festival which began in 2003 and is a tradition that we hope carries on for many years. The festival takes place in mid-October during peak fall foliage. It's a wonderful time for lot owners, guests, and locals to visit the mountain, enjoy food, music, and to get acquainted. Don't miss this annual tradition!
Power
Electrical service is provided and maintained in Heartwood, as it is in all of Carter and surrounding counties, by Mountain Electric Cooperative. For the most part, power lines in the subdivision are run overhead, except for the occasional underground sections paid by individual lot owners so as not to disturb their views. The developer has paid for all primary poles to be distributed throughout the development but in cases where there are shared or separate driveways to house sites, owners may be required to pay for a secondary or lift pole to service their house. The cost associated with this is $250 per pole.
Wells
There have been nine common wells installed in Phase I and II of the development. Separate electrical meters, pumps, expansion tanks, distributor lines, and cut-offs are in place for each well. Heartwood offers the opportunity for lot owners to purchase a Well and Water Right Agreement when and if available. Each common well can provide water for up to 25 residents or 9 homes under the guidelines of the State of Tennessee Health Department. (Ask for a copy of the Well Agreement for more detailed information.)
Septic
All homes in Heartwood shall have their own individual septic and drain fields installed by a licensed contractor. Once your application fee has been paid and approved a local Carter County Field Inspector will assist you in the design and placement of the system on your lot. All lots under 5 acres have already had soil evaluations and maps completed by a certified soil scientist. The approved maps are on file with the State of Tennessee Health Dept.. All lots over 5 acres are not required to go thru this procedure.
Telephone
Telephone service is being supplied to the development by Sprint Telephone. The lines shall be run overhead and attached to Mountain Electric power poles. At this time, they will only be available to the first 25 customers who subscribe for service.
Roads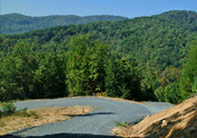 The roads in Heartwood Subdivision are gravel, maintained and repaired as necessary. Funding for this work is provided by the Homeowner's Association Fund or individual lot assessments if needed. Lot owners have expressed an interest in paving the main roads in the development sometime in the near future. (Please contact the developer for more information.)
Restrictions/Covenants
Subdivision Restrictions, Reservations, Home Owners Association, and Easements for Heartwood Subdivision have been established and are a matter of public record in the office of the Register of Deeds for Carter County Tennessee. The covenants and by laws have been written to protect the lot owners and the developers rights and investment in this project.
Other Links: