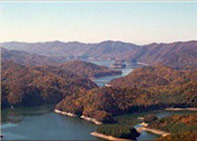 Discover the peaceful beauty of Heartwood, a mountaintop development with breathtaking views of Watauga Lake, Iron Mountain Range, Grandfather, Beech, Roan and Walnut Mountains.
Heartwood Mountaintop Subdivision is one of the "Best Kept Secrets" in the Southern Appalachian Mountains. Heartwood is located 5 miles from the NC State Line in Carter County, TN, just 2 miles off Highway 321. Boone, NC and Johnson City, TN are two larger cities within a 40 minute drive in either direction. Heartwood is fast becoming a "destination" for tourists and locals alike. The development is bordered on the north by the Cherokee National Forest situated on top of Mays Ridge with elevations ranging from 2600' to 3400'.
One of the "Best Kept Secrets" in the Southern, Appalachian Mountains.
Heartwood has enjoyed steady growth since opening sales in the year 2000. We are a private gated community consisting of 330 acres with 71 residential lots ranging in size from ¾ of an acre to 6 acres. As of June 1, 2007 there are 12 homes completed, 4 under construction and 2 planned for startup. Please view our photo gallery.
Plan a trip to visit us soon. Heartwood has something for everyone!